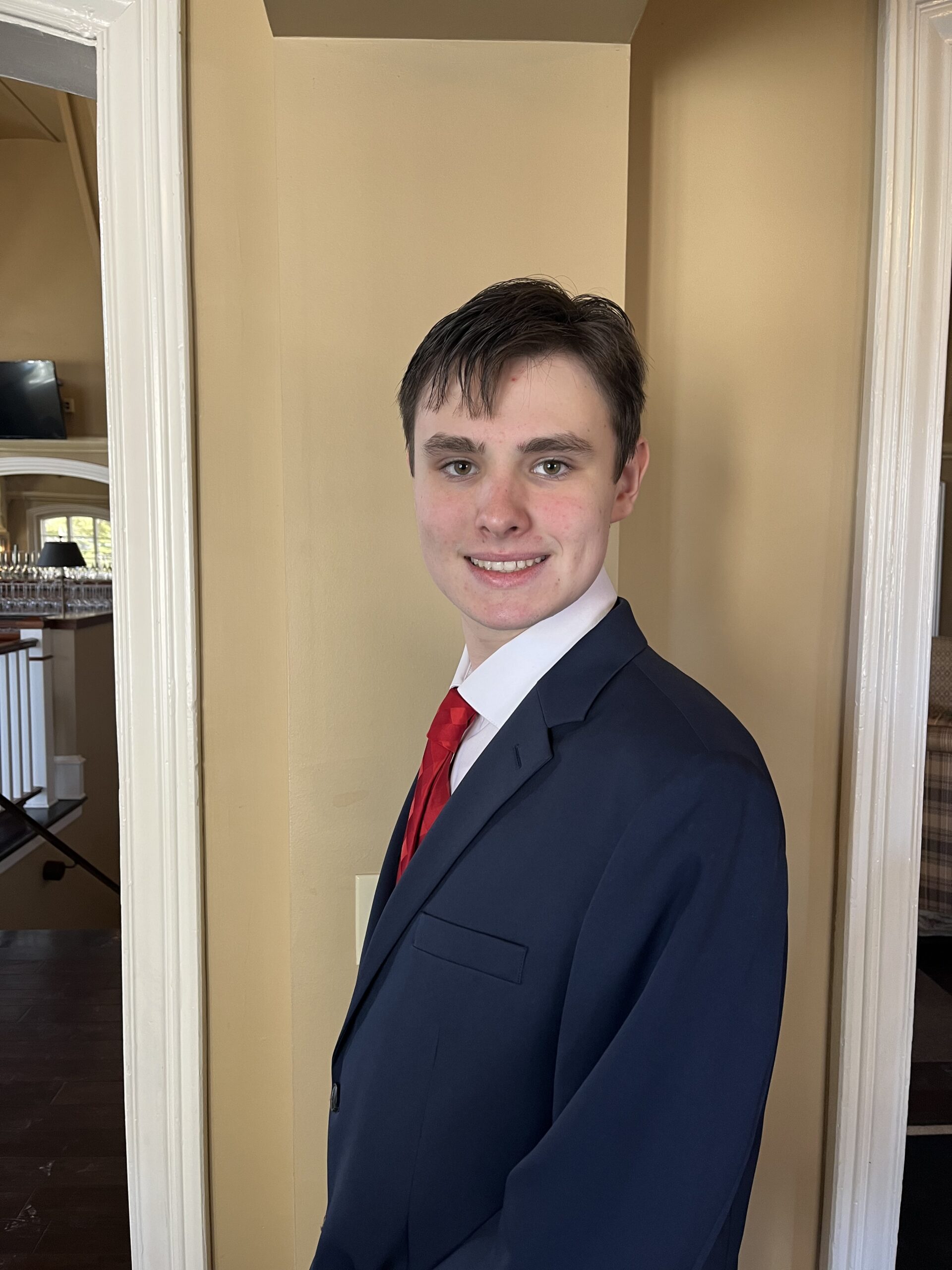 Robbie Starankovic is a fighter.
One way or another, the Haverford High School senior has been fighting all of his life — whether he knew it or not.
His next fight was made easier last month when Starankovic, a golf caddie, received the Platt Evans Scholarship, a full, four-year scholarship estimated at $125,000 to attend Penn State.
"It honestly kind of threw me off a little bit being one out of [many] applications across the U.S.," Starankovic said. "I am eternally grateful … to be given the opportunity to be a [Platt] Evans scholar."
When the FedEx envelope carrying the good news arrived at the family's home in Havertown, Starankovic and his parents, Celeste and Rob, had assumed he might get about $10,000. Celeste explained that the couple had married later in life and felt lucky to have a child in their 40s, so any amount would have helped.
Reality sunk in, however, when they read the acceptance letter.
"At first, my brain just kind of stopped working and processing what I just read," Starankovic said with a smile. "And then it hit me."
Comprehending such a letter may have been more difficult before Starankovic was diagnosed with dyslexia and attention-deficit hyperactivity disorder while in middle school.
Hard work and dedication mixed with the dogged determination of his parents helped Starankovic become a stellar student with a 3.98 GPA who hopes to study engineering in college.
In fact, he was about 6 months old when Celeste, now 62, first wondered if she "had a little engineer" after seeing how easily he assembled certain toys.
It was in middle school, though, that she noticed "refusal behaviors" and increasing frustration when it came to her son's school work.
According to Yale's Center for Dyslexia and Creativity, dyslexia is the most common of all neurocognitive disorders, affects about 20% of the population, and represents about 80 to 90% of all people with learning disabilities.
Celeste and Rob, now 64, eventually removed their son from public school and enrolled him at the Stratford Friends School, a Quaker-based middle school in Newtown Square geared specifically for "neurodiverse" students.
"He gained confidence," she said. "He was happier. He was enjoying going to school. He felt very supported by the teachers. He wasn't enjoying going to school [before that]."
"It was what he needed at the time," she added. "I don't know if we'd be here if we didn't have that piece. [His] confidence literally just shot through the roof …"
Then he kicked in a few new doors.
Starankovic took up karate and is now a junior black belt. He also started playing golf and tennis in middle school. Then he volunteered at Best Buddies, a nonprofit organization dedicated to people with intellectual and developmental disabilities.
When it came time to enroll in high school, his parents preferred he attend another private school.
Starankovic, however, wanted the lively atmosphere that Haverford provided.
"The first days were a bit overwhelming, to say the least," he said, "but after about a week or so, I was able to adapt to the new environment just like I had years ago. And here I am with new friends, new experiences, and just having had a really great time at my high school."
He played on the golf team during his freshman and sophomore years but didn't make the team as a junior or senior. The pandemic, his mom explained, meant fewer spots were available on the team. It stung, but it also yielded time for a new passion: acting.
Yet, Starankovic remained passionate about golf, so he also became a caddie at Llanerch Country Club.
It was there the family learned about the Platt Evans Scholarship, which comes from a partnership between the Western Golf Association's Evans Scholars Foundation and the J. Wood Platt Caddie Scholarship Trust from the Golf Association of Philadelphia.
Candidates are chosen based on a strong caddie record, excellent academics, demonstrated financial need, and outstanding character.
"It is very clear when you meet him that he is a very hardworking young man who has persevered through a fair amount of challenges in his life," said Tina Gregor, chairwoman of the J. Wood Platt Caddie Scholarship Trust.
Starankovic will likely live with previous recipients of the scholarship in the Platt Evans House, which opened on Penn State's campus in 2019.
He also plans to continue caddying throughout college, though there is no affiliation with the university's golf team.
No matter where the future takes him, Starankovic's mother is confident one trait will always help him succeed:
"His ability to rise to challenges," she said. "I never gave him the diagnoses early on. I never said, 'Well, you can't do [XYZ] because you have ADHD or dyslexia.' … His resilience and learning to adapt, that's the piece that I am so incredibly proud of. He was working through things that he didn't know he was working through.
GAP
Celebrating Amateur Golf since 1897, GAP, also known as the Golf Association of Philadelphia, is the oldest regional or state golf association in the United States. It serves as the principal ruling body of amateur golf in its region. The Association's 288 Member Clubs and 75,000 individual members are spread across the Eastern half of Pennsylvania and parts of New Jersey and Delaware. The GAP's mission is to promote, preserve and protect the game of golf.
J. Wood Platt Caddie Scholarship Trust
The J. Wood Platt Caddie Scholarship Trust was created in 1958 and is the charitable arm of GAP (Golf Association of Philadelphia). The J. Wood Platt Caddie Scholarship Trust's mission is to financially aid and empower qualified caddies and those working in golf operations in the pursuit of higher education. Along with aiding caddies financially, J. Wood Platt's EMPOWER program strengthens scholarship investment dollars by providing caddies with exceptional benefits and leadership training through access to the wide network of J. Wood Platt donors and alumni. To date, more than 3,700 young men and women have received $25 million in aid from the Trust.