Q&A with this month's #PlattProfile, Madison Morgan
Morgan speaks about her experience working in golf operations at her club.  
(This interview has been edited for clarity and length.)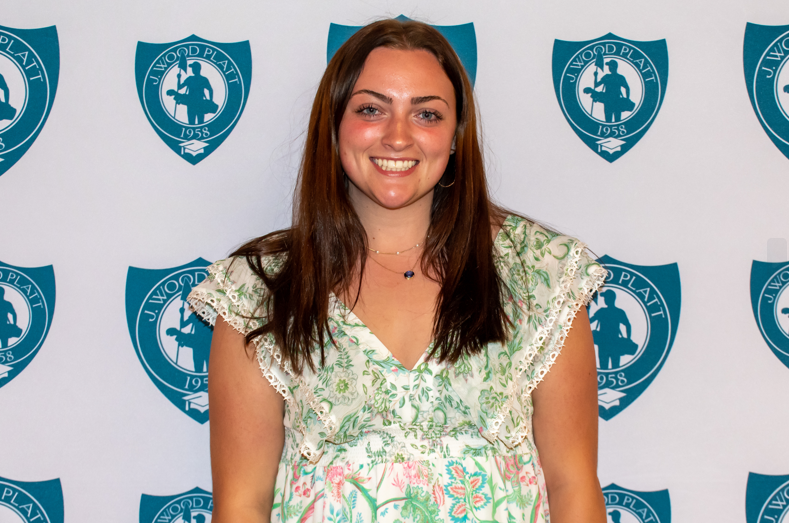 Q: How old are you?
A:  I am 18.
Q: What school are you currently attending?
A: I am going to attend Penn State Main Campus. I am actually here right now.
Q: When do you graduate?
A: I will graduate in May of 2027.
Q: What is your major?
A: My major is business marketing.
Q: How did you decide on that major?
A: I was actually all over the place in high school and then my junior year, we had an internship program, where I had an internship with the director of marketing and events at a local arena. It was with the Santander Arena in Reading. I worked with him and I did a lot of ticketing, scheduling, and events in general. I found that it was really fun and interesting. And then from there, I got three other internships with a for-profit, nonprofit, and then another in a corporate environment. So, I got a bunch of different marketing experience and I was like, I want to do this.
Q: Do you participate in activities in school? Clubs?
A: Yes, I'm planning on participating in THON. We had a mini THON at my high school and I was the President. Over my high school career, I was able to fundraise $24,000 by myself. This year alone I raised $15,000 so THON is definitely at the top of my list. I also plan on rushing and then joining some sort of business frat or a business marketing organization.
Q: Do you have any hobbies?
A: Well golf definitely, I picked it up going into my junior year. I had one teacher who got me interested in golf, he was our mini-THON advisor, one of my teachers, and the golf coach. Besides golf, I do a lot of planning and I love all the extracurriculars at school, so I spent a lot of time participating in those. I also love being outside and just trying new things.
Q: What golf club do you work at?
A: I work at Broad Run Golfers Club in West Chester.
Q: What Service to Golf capacity do you work in? (Bag room, driving range, cart management, or pro shop)
A: So we call all of us the outside bag staff, but it is basically the outside operations.
Q: How long have you been working there?
A: I have been working there since 2019.
Q: How did you get into working in golf operations?
A: It was very easy to get into the golf world with my dad being the golf pro at Broad Run. But since being there, I formed a lot of connections and that is what made me want to stay and to continue to work there.
Q: What is your favorite thing about working at your club?
A: My favorite thing is getting to know people, members, new golfers, etc. Honestly, I am such a people person. I love getting to know people whether they're members that I talk to daily or if it's new golfers. I love talking to people and learning about their different experiences. It is my favorite part of the job.
Q: How did you hear about J. Wood Platt?
A: I actually visited Penn State and we saw the Platt house. We asked somebody about it and they filled us in on it. I was really interested in learning more once we had that conversation.
Q: What are your long-term goals? Think 5 to 10 years
A: When I think long term, I do not have a dream position or career in mind, simply because there are so many opportunities in the world of business. I hope to have a thriving career in the industry where I am serving others and bettering the community around me. I also hope that I can get to a point where I can give back to J. Wood Platt after they helped support me in my education.
Q: What is something that happened to you while working in golf operations that you will never forget?
A: One experience at Broad Run Golfers Club that sticks out to me was during one of the league nights last summer. On Thursday nights, we have a big league and last year it seemed that every time they came in from their rounds, it would downpour. One night, as my co-worker and I were running frantically around trying to clean up and make sure all of the golfers were okay, I found one of my favorite members' shoes sopping wet in the parking lot. I laughed and questioned why they were in the parking lot then ran inside and gave them to him. He laughed it off and thanked me over and over because they were new shoes. This may just seem like a funny experience, but I learned so many different things from not only working in these leagues but also working in the pouring rain. We learned to work faster and more efficiently, while also going above and beyond to serve the golfers to have the best possible experience at Broad Run. To this day, it still baffles me how close I have become to some members and I am so grateful for the opportunities that I have had at Broad Run Golfers Club thus far.
Q: What advice would you give your younger self?
A: I would tell my younger self going into high school to not be afraid to seize all of the opportunities that come your way. When you're young, it's so easy to let the fear of being judged take away from so many amazing things. At times, I definitely let that get the best of me for the sake of being "too involved", a "try-hard", or even "a teacher's pet".  I feel like I did take advantage of many opportunities throughout high school and I will continue to going forward. However, at times when it came to going out of my comfort zone at Broad Run, on the golf course, or in school I wish I didn't let the fear of other people's opinions get in my way which is what I would 100% tell my younger self to let go of.
Q: How has J. Wood Platt changed your life?
A: I think the biggest impact I have already seen from being a Platt Scholar has been the people I have met. Every single person I've met so far — whether it is a fellow scholar, a donor, or a Platt staff member — has been so welcoming and open to listening and talking. It is so refreshing to have a group of people with things in common going into college and I am looking forward to going to school with a few of them!
J. Wood Platt Caddie Scholarship Trust
The J. Wood Platt Caddie Scholarship Trust was created in 1958 and is the charitable arm of GAP (Golf Association of Philadelphia). The J. Wood Platt Caddie Scholarship Trust's mission is to financially aid and empower qualified caddies and those working in golf operations in the pursuit of higher education. Along with aiding caddies financially, J. Wood Platt's EMPOWER program strengthens scholarship investment dollars by providing caddies with exceptional benefits and leadership training through access to the wide network of J. Wood Platt donors and alumni. To date, more than 3,700 young men and women have received $25 million in aid from the Trust.