Q&A with this month's #PlattProfile, Lucas Hudson
Hudson speaks about how he found his passion for finance through caddying. 
(This interview has been edited for clarity and length.)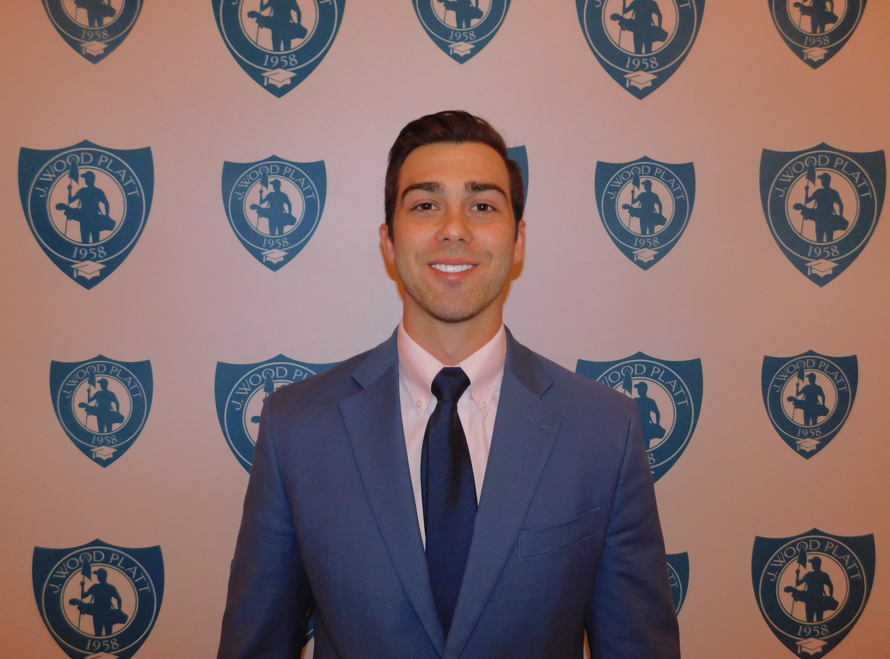 Q: How old are you?
A: I am 24.
Q: What school are you currently attending?
A: I am currently a senior at Lehigh University.
Q: When do you graduate?
A: I graduate in Spring 2023.
Q: What is your major?
A: I am studying Finance.
Q: How did you decide on that major and minor?
A: So actually, my interest in finance started through caddying. I have just a little story. Basketball was my whole life from the time I was in 5th grade until now, I still love the game. I played all 4 years in high school. I was a four-year starting point guard.  I am the all-time assist leader at my high school. I was able to play one year of division three college basketball at Misericordia University. I loved the school, and I loved my friends, but I just didn't know what I wanted to do with my career. Eventually, I burnt out of basketball, I gave my life to it and as much as I love the game I just didn't have the desire to play anymore. I decided to take a gap year and, in that time, I went back to my high school and coached high school basketball while I continued to caddie.
I started caddying when I was a sophomore in high school at Saucon Valley Country Club.  Throughout the years, I have created some great long-term relationships with a lot of members through them giving me advice and mentorship. A lot of the members are from Wall Street who come in from New York to play at Saucon and a lot of them are Lehigh alumni. They got me into trading, talked to me about the stock market, and had me open my own account, I put the summer money that I made from caddying in my account. They told me to just have fun with it, and learn as much as I can. From there, I absolutely fell in love with the stock market. I knew that if I wanted to reach my goal of getting to Wall Street, I would have to go to a very good university. I was fortunate and blessed enough to transfer to Lehigh University, which I did in the middle of COVID. Unfortunately, when I got to Lehigh, they took virtually none of my credits. I had to redo a lot of my courses but I was able to pursue my passion for finance.
I still maintain those relationships I have from caddying at Saucon Valley Country Club. I was even able to use the relationships I made as leverage into my first internship last summer as a private wealth management analyst at Bank of America. The following summer, I did another internship with Bank of America in New York City which was equity research. I wound up getting a full-time return offer and I will be working in their Manhattan headquarters after I graduate.
If it wasn't for caddying, I do not think I would be in finance.
Q: Do you participate in activities in school? Clubs?
A: I play on the club basket team and the club tennis team. I am a member of the investment management group at Lehigh.
Q: Do you have any hobbies?
A: I love playing basketball, tennis, and bass fishing.
Q: What golf club do you caddie for?
A: Saucon Valley Country Club.
Q: How long have you been caddying?
A: 8 years.
Q: How did you start caddying?
A: My dad is an excellent golfer, he is actually a Lehigh Valley golf Hall of Famer, his name is Jeff Hudson. He has won many tournaments so I pretty much grew up on a golf course. As I was in high school looking for my first job, a lot of my friends were already caddying at Saucon Valley Country Club and my parents thought that would be a great job for me to have since I already know the game of golf.
Q: What is your favorite thing about caddying?
A: Aside from the financial aspect of caddying, networking and building great relationships with successful people is my favorite thing about caddying. You know the phrase the more successful people you are around and interact with, the more successful you will be. Being able to network with them, giving me references, and picking their brains about different topics, you can't beat that. You're spending 4-5 hours with these people, and you really get a sense of their work ethic and the way they approach life. You can't get there anywhere else.
Q: How did you hear about J. Wood Platt?
A: So, I am kicking myself because I should have done this a lot earlier but better late than never. I knew about it since I started, I saw the flyers and my caddie manager presented it to us, especially the younger caddies telling them J. Wood Platt is a great opportunity to take advantage of. I should have done it a lot earlier but once I dove into it I found out it is a great scholarship. I am very fortunate and blessed to be able to receive J. Wood Platt scholarship money to help pay for my education.
Q: What are your long-term goals? Think 5 to 10 years
A:  My long-term goals are to be able to make an immediate impact as an Equity Research analyst at Bank of America.  I want to be able to contribute to my team's thesis on whatever stocks we are covering and help our clients in any way they may need.  A little further out, another goal of mine is to work at a hedge fund.
Q: What is something that happened to you while caddying that you will never forget?
A:  I got to caddy for NFL Hall of Famer John Randle.  He was a pretty good golfer, and one of the funniest gentlemen I have ever caddied for.
Q: What advice would you give your younger self as a caddie or a new caddie just starting?
A:  Stick with caddying while you are in school.  I remember when I started I had to pay my dues and it was not easy.  There were times when I would get up every day at 6:30 am to be the first one at the course, and I would end up not getting a loop.  Caddying is not an easy job, but the relationships and rewards caddying provides can not be beaten!
Q: How has J. Wood Platt changed your life?
A:  It has given me a chance to interact and network with amazing alumni and country club members that have helped me find my passion and lead me to my current job.  The scholarship money has also helped my family immensely in paying for my college tuition.  I am extremely thankful for everything J. Wood Platt has done, and I plan on being an active alumnus once I graduate!
J. Wood Platt Caddie Scholarship Trust
The J. Wood Platt Caddie Scholarship Trust was created in 1958 and is the charitable arm of GAP (Golf Association of Philadelphia). The J. Wood Platt Caddie Scholarship Trust's mission is to financially aid and empower qualified caddies and those working in golf operations in the pursuit of higher education. Along with aiding caddies financially, J. Wood Platt's EMPOWER program strengthens scholarship investment dollars by providing caddies with exceptional benefits and leadership training through access to the wide network of J. Wood Platt donors and alumni. To date, more than 3,700 young men and women have received $25 million in aid from the Trust.