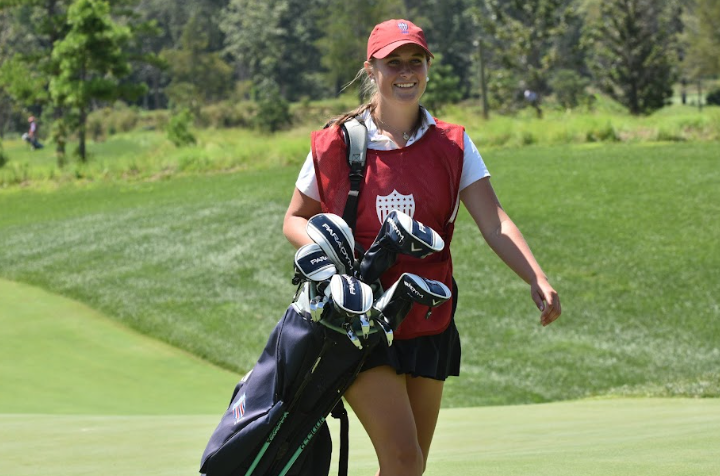 Excerpt from the Fall 2023 issue of the GAP Magazine
By John T. Iswalt
"Amor Patriae Ducit" or "Love of Country Leads" has served as The Union League of Philadelphia's motto since its founding in 1862. Morgan Delaney's love of Union League National Golf Club has led her to a J. Wood Platt Caddie Scholarship.
"To be a recipient and have this opportunity is just life changing and incredible," Delaney, 19, of Swainton, N.J., said. "Being able to eventually give back to the Platt Caddie Scholarship and to other recipients in the future is a goal of mine. I can't wait to help in any way that I can. [Receiving the Scholarship], means that I'm able to pursue my interests without having to worry about the costly worries [of] college." 
When she was 13 years old, Delaney began caddying at the club after a conversation with her dad Doug, the club's long-time golf director.
"This was my first job ever," Delaney said. "[My dad] took me out with the caddiemaster and [they] showed me all the different greens and how to read them. Then, I trained with a couple experienced caddies."
Delaney is Union League National's first female caddie. Since her first loop in 2018, the club's female caddie force has increased to five.
"It was kind of scary and intimidating being the only female [among] all the older caddies here," Delaney said. "It's great to see [other female caddies] and have that female empowerment at the course."
Lindsay Myers serves as the Trust's Director of Scholar & Alumni Engagement; part of her role is working to support both female, and male, Scholars.    
"In recent years, the Trust has significantly increased efforts to grow the number of female Scholars working as caddies and in service to golf throughout the GAP region. In 2023-24, 11 women will receive scholarships, an all-time record high for the Trust," Myers, 53, of Coatesville, Pa., said. "This year will mark the third annual Women's Endowment Tournament, which has raised over $150,000 to date in support of female Scholars. We are so pleased to see these efforts resound with our donors who join us in recognizing the unique contribution that women make to the game." 
Paul J. Schulte, a fellow caddie at the club, informed Delaney of the Scholarship and encouraged her to apply. This is Delaney's first year as a Scholar.
*****
Accountability and communication are qualities Delaney values.
"Being here on time and showing that you want to be here and you want to have a loop every opportunity you get shows a lot about [a caddie's] character," Delaney said. "Caddying [has] helped me with my social skills [and] being able to communicate amongst larger groups of people and learn the game of golf."
With Delaney's encouragement, her younger sisters, Anna (16) and Beth (13) also work at Union League National. Anna works in the pro shop, and Beth just started caddying.
It's an easy commute for the Delaney family. They live near the club's overnight cottage accommodations located on Union League National's Meade nine. The club features 27 holes of golf (three nines – Grant, Meade and Sherman).
"We haven't worked anywhere else, this is just what was in our path for us," Morgan said. "I'm definitely lucky to have this opportunity [with my family]. Being able to work here and meet so many of the amazing staff and members is a great opportunity."
Delaney is a sophomore at Lebanon Valley College, located in Annville, Pa., with a double major in chemical engineering and business administration. Currently, she is enrolled in LVC's Engineering 3+2 program. For Delaney, this academic plan involves spending time at both LVC and Case Western Reserve University in Cleveland, Ohio to earn two bachelor's degrees in five years.
"Throughout high school, I was in the STEM (science, technology, engineering and math) program, so I learned to love math and science the most out of all the subjects," Morgan, a 2022 graduate of Middle Township High School, said. "In high school, it was more computer engineering and coding. I learned that I was good at that but I didn't like it exactly, so that led me to look more into the other types of engineering [which is] how I picked chemical."
As far as career plans go, Delaney has her heart set on a profession involving science. 
"I'm hoping to start internships next summer and maybe reach out to certain members here who I've met through caddying and are in my field of interest," Delaney said. "I'm sure with internships I'll be able to develop more of an idea of exactly what I want to do."
Lacrosse is another one of Delaney's passions. She started playing in third grade and now represents the LVC Flying Dutchmen on the women's lacrosse team. Last season, she appeared in 12 games and made four starts.
"I didn't originally want to play lacrosse [in college]. I didn't think I'd be able to do that," Delaney said. "Playing travel lacrosse led me to look at other colleges, so being able to go for both [athletics and academics] is a great achievement [for me]."
Delaney played for South Jersey Shamrocks Lacrosse, a travel lacrosse team located in southern New Jersey.   
In 2020, Delaney began helping out in the club's restaurant and the "Lookout," an Airstream travel trailer located in the center of the three nines that serves as the club's on-course snack bar.
"When COVID hit, [there was] a dip in the number of people who were able to work in the restaurant. Since I was so close by, they offered me an invitation to come and work," Delaney said. "I came back in the middle of May [when play] was still kind of slow so I started [helping out in the Lookout]."
"She's seen around the club a lot between [the Lookout,] working the restaurant and caddying. The members love to see her in every role that she has," General Manager Jacob Hoffer, 37, of Swainton, N.J., said. "She's a hard worker [and] a smart kid. I think her receiving the scholarship is so fitting given her background in golf and her family's commitment to golf here."  
While Delaney works hard at Union League National, the J. Wood Platt Caddie Scholarship Trust made sure her efforts were rewarded.
GAP
Celebrating Amateur Golf since 1897, GAP, also known as the Golf Association of Philadelphia, is the oldest regional or state golf association in the United States. It serves as the principal ruling body of amateur golf in its region. The Association's 288 Member Clubs and 75,000 individual members are spread across the Eastern half of Pennsylvania and parts of New Jersey and Delaware. The GAP's mission is to promote, preserve and protect the game of golf.
J. Wood Platt Caddie Scholarship Trust
The J. Wood Platt Caddie Scholarship Trust was created in 1958 and is the charitable arm of GAP (Golf Association of Philadelphia). The J. Wood Platt Caddie Scholarship Trust's mission is to financially aid and empower qualified caddies and those working in golf operations in the pursuit of higher education. Along with aiding caddies financially, J. Wood Platt's EMPOWER program strengthens scholarship investment dollars by providing caddies with exceptional benefits and leadership training through access to the wide network of J. Wood Platt donors and alumni. To date, more than 3,700 young men and women have received $25 million in aid from the Trust.