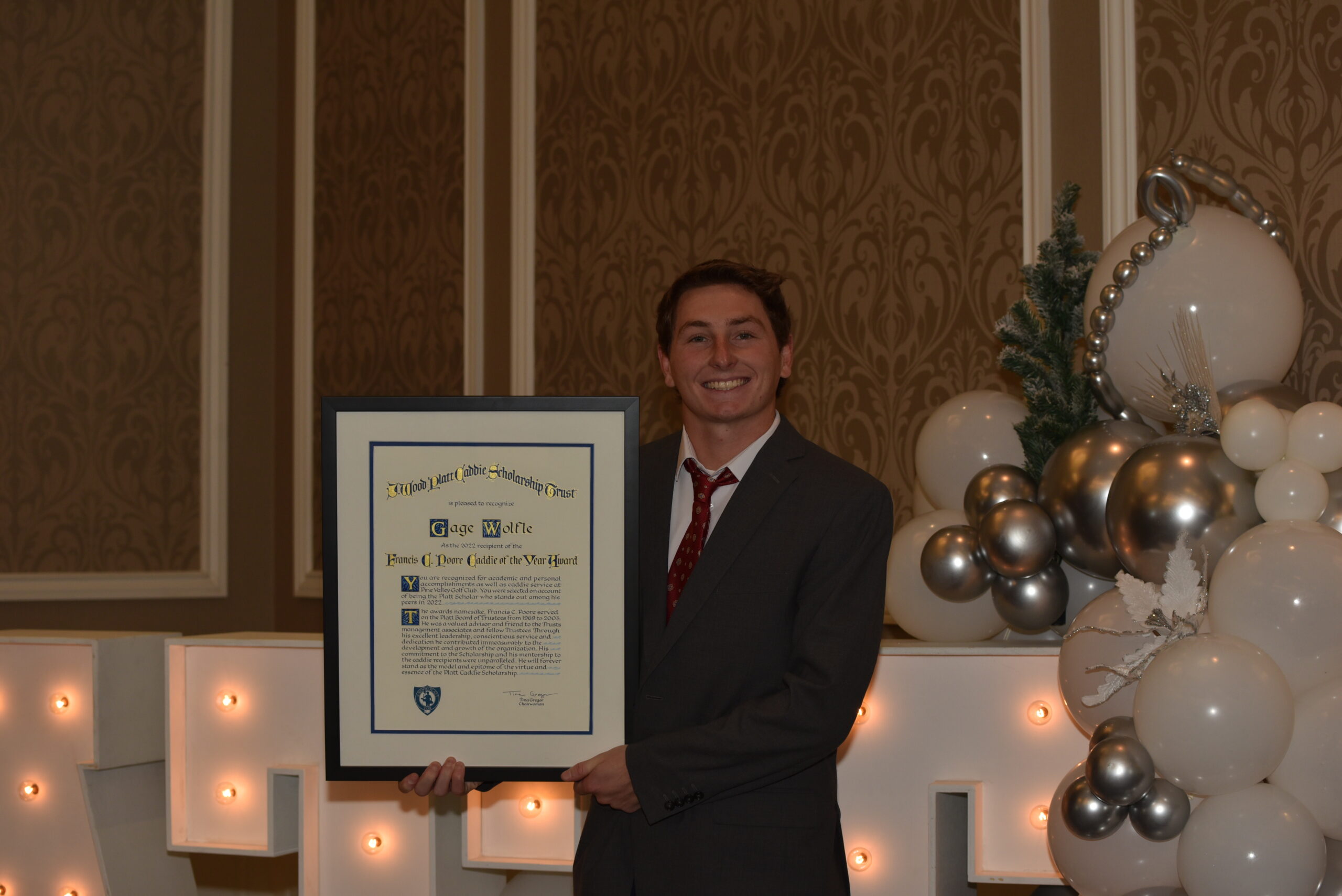 Gage Wolfle's Caddie of the Year Speech from the 2022 Caddie Brunch 
Good morning everyone, receiving this award is truly an honor. When I received the phone call
from Mrs. Myers over Thanksgiving break, and she informed me I was getting the Caddie of the
Year Award; it made me reflect on how much I have to be thankful for.
This past spring, I was able to compete in my first BIG East conference tournament, and
contributed to a cumulative team gpa of 3.65. After I finished the semester, I then spent most of
my days working at the #1 ranked golf course in the world, Pine Valley, while still managing to
keep my golf game intact and play a few tournaments throughout the summer. Our first
tournament this fall was our home event. I finished -9 after 3 rounds which is my best 54 hole
score in college. We then finished our season strong and won our last 3 tournaments as a team.
While reflecting on this year, I've realized there are several people that I must thank for making
my past 4 years at St. John's and Pine Valley, the best years of my life.
First off, this organization has been amazing to me since the beginning. I've made great
relationships with many of the people that contribute to the J. Wood Platt Scholarship; and I
have enjoyed representing what it stands for;
I started caddying in 2018 and ever since, I have realized the true mission at Pine Valley,
which is to serve beyond what you are expected of.
Throughout my caddying experiences, I've learned to adapt to my environment, enhance my
communication skills, and appreciate what I am doing out there.
Pine Valley is such an amazing place, and I want to thank the man that provided me with this
opportunity to meet and serve for, one of the top memberships in the world. That is Todd Baron.
He is more than just a boss to me, he has taught me so much and we've shared many
memories together. Todd, Charlie, Dave and the rest of the staff at Pine Valley work so
efficiently and I admire the atmosphere that is sustained out there on a day to day basis.
When I first met Todd, we were playing in the Gloucester county amateur at the course I was
working at in 2017, Pitman GC. One of my best friends and high school teammate had been
caddying at PV, so I knew who Todd was but this was my first time meeting him. We both played
pretty well but I'm assuming he liked the way I carried myself on the course, because when we
finished our round, he offered me the job to caddie and it was something I could only dream
about .
Walking on the grounds at Pine Valley is a blessing in itself; But being able to represent the
club as a caddie is something I would never take for granted, so I made sure to do all the right
things every time I showed up to work. (Except forgetting to bring a towel from time to time)
Todd brought up the Platt scholarship one day after my loop and strongly encouraged me to
look into it. So, that night, I searched up the website and realized what a great opportunity it
would be for me, so I took action on it. I'm grateful that I did because it gave me an extra
emphasis to be a great student, player, and caddie.
Before I finish my speech, I must thank my mom and dad. They try their best to come to all my
tournaments so I knew they wouldn't miss this, but they are my true motivation. They have done
so much for me in my life, I feel it is my duty to work as hard as I can to be the best version of
myself. Along with them, my brother has been a major role model in my golfing career but he is
the reason I was able to get to the level that I am at today. He's also the reason I started playing
golf in the first place and he has pushed me to be the best golfer I can be, since I started, and
for that I would like to thank him. Lastly, I want to thank everyone here for coming today, as I
welcome Mrs. Myers back to the podium.
GAP
Celebrating Amateur Golf since 1897, GAP, also known as the Golf Association of Philadelphia, is the oldest regional or state golf association in the United States. It serves as the principal ruling body of amateur golf in its region. The Association's 288 Member Clubs and 75,000 individual members are spread across the Eastern half of Pennsylvania and parts of New Jersey and Delaware. The GAP's mission is to promote, preserve and protect the game of golf.
J. Wood Platt Caddie Scholarship Trust
The J. Wood Platt Caddie Scholarship Trust was created in 1958 and is the charitable arm of GAP (Golf Association of Philadelphia). The J. Wood Platt Caddie Scholarship Trust's mission is to financially aid and empower qualified caddies and those working in golf operations in the pursuit of higher education. Along with aiding caddies financially, J. Wood Platt's EMPOWER program strengthens scholarship investment dollars by providing caddies with exceptional benefits and leadership training through access to the wide network of J. Wood Platt donors and alumni. To date, more than 3,700 young men and women have received $25 million in aid from the Trust.